I'm a Certified Green Wedding Planner. That means that I not only took courses and tests to become Certified – it also means I practice what I preach. I work in beautiful and sometimes remote locations in various states, including Colorado and Northern Nevada/California-Lake Tahoe Region. I plan celebrations for couples with various guest counts, venue sizes, and levels of décor. The green effort is not just to make their wedding a one-of-a-kind, beautiful, and memorable celebration but also includes a sustainable, eco-friendly event without the feeling of leaving something out. I work hard to make a difference. My strategy is to use what I call the "Four R's."
Recycle, Reuse, Refurbish, and Reimagine.
Recycle:
When I say 'Recycle,' it means that I actively seek out venues and vendors that prioritize recycling. It's a process that extends beyond merely disposing of waste. It's about fostering a culture of recycling within the event planning sphere, encouraging everyone involved in the event, from the caterers to the decorators, to adopt eco-friendly practices. I work with venues and vendors who will recycle plastic, cans, bottles, and paper. A green vendor will break down cardboard and have a team who collects recyclables to pack out or pick up. I strive as an eco-friendly wedding planner to eliminate everything that cannot be recycled, such as Styrofoam. It is worth asking if vendors and venues use products that are recyclable and eco-friendly.
Reuse:
Are all the elements manufactured such that they can be used again, or have they been used previously? Rentals of tables, chairs, lighting, tents, linens, and tableware can be used repeatedly. Employing a florist that has an inventory of vases and decorative elements is preferred to an inventory that is used once and then thrown out. I know of a wedding designer who works with high-end clients for over-the-top events. When asked, "What do you do with all the decorations and flowers you bring in for your events," he responded, "I can't be bothered. I throw everything out" That was painful for me to hear. Reducing waste is an important part of being a green wedding planner.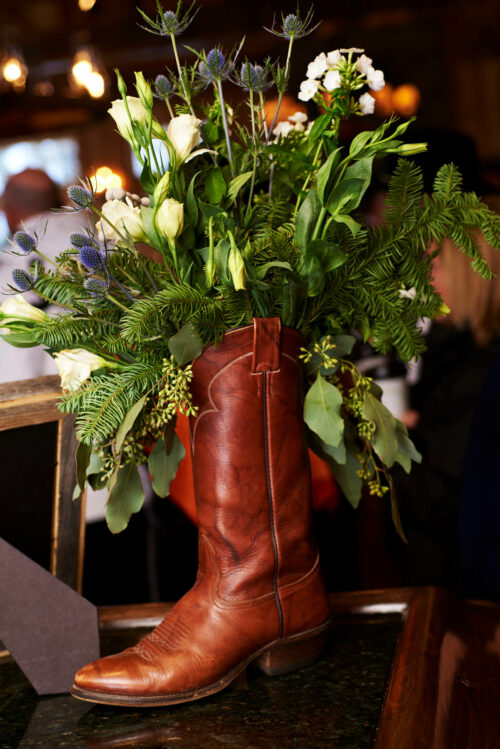 Refurbish:
'Refurbish' is about seeing potential where others might see waste. It's about finding beauty in the unexpected and breathing new life into what was once considered old. This philosophy extends to every aspect of the event, whether it's using second-hand western boots as innovative vases or transforming a thrifted silver tray into a holder for wedding gifts. Renovating, remaking, revising, or renewing the elements for a wedding can often require little effort. For example, I needed a silver tray for wedding gifts to be handed out to all the guests as they left the celebration. I found a beautiful silver tray at a local thrift store. Using silver polish and a little elbow grease, the tray was cleaned up and transformed into a beautiful piece. No one knew it had a second life and cost only $5! At a western-themed event, I found several pairs of old western boots in a second-hand store. I cleaned up the boots and added a tall vase inside the boots and added a touch of color with flowers inside the vases. Asking family members to borrow items or shop at vintage stores can make a big difference in lessening the material that is disposed of afterward. Vintage and thrift shops are a goldmine of inventory and possibilities as a green wedding planner.
Reimagine:
'Reimagine' is where creativity truly comes into play. It's about not just using what we have but thinking outside the box to make those items even better. This might involve incorporating a book lover's vintage collection into the wedding décor, for example, an old windowpane bought at a thrift store was divided into eight sections. My team imagined it as a seating chart for the wedding reception. We numbered each of the eight sections of the vintage windowpane and had our calligrapher write the guests' names to assist guests to their assigned tables at the reception. The final product was hung over the fireplace, where all the guests would see it. Beautiful! Here is another example. A bride, who was a teacher of literature and collected vintage books, asked us to use the books in any way we could. The books were stacked on each table, with lovely small bud vases of flowers to add color. Each table was named after a romance novelist. A vintage bureau with a mirror attached was placed in a garden where guests gathered before the wedding. The desk was used to hold parasols, and pashminas for the ladies. It was stunning and unique, adding beauty to the outdoor site for the wedding celebration.