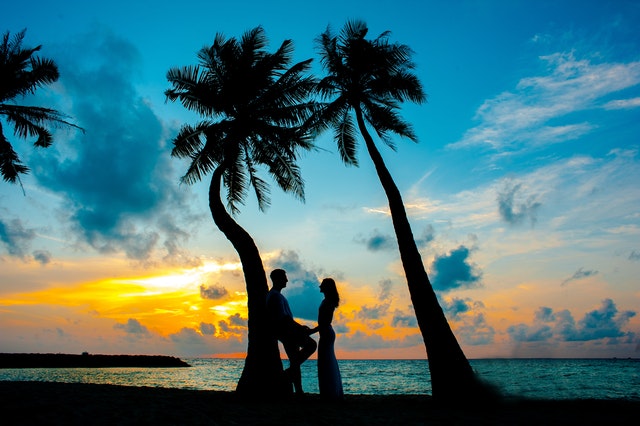 While many weddings were put on an abrupt hold due to the pandemic, things are finally starting to get back to normal now. Weddings, bridal showers, bachelor parties and honeymoons are all back in action which means it's time to start wedding and honeymoon planning! 
Honeymoon planning can be a lengthy process of price checking and site searching, which is where JoAnn Moore steps in. As a Certified Sandals Specialist, she has all of the inside knowledge you'll need to plan the perfect honeymoon! So, what are you waiting for? Let's take a look at some of 2022's honeymoon trends so you and your significant other can plan the ideal vacation after your wedding!
There are an average of 2 million new marriages reported each year in the United States with nearly 99 percent of couples taking a honeymoon after sharing their nuptials. With this in mind, we can see that honeymoon planning is a big business within the wedding industry. Along with your wedding day, your honeymoon is easily one of the most memorable experiences you can share with your partner, which is why it's crucial to plan accordingly. 
---
Honeymoon Planning Facts 
Here's a deep dive into the newly engaged millennial (18-35) mindset and how they research, share, spend and book travel to celebrate their special day. 
The average couple takes a seven-day honeymoon, but some lucky couples have recorded being on their honeymoon for 50+ days! 

On average, 40 percent of American couples will travel outside of the U.S. for their honeymoon while the remaining 60 percent choose to travel within the U.S. 

Top domestic destinations are Hawaii, Florida and Las Vegas respectively

Top international destinations are the Caribbean, Mexico and Europe respectively

76 percent of newlyweds set to go on their honeymoon within the first week of being married with the majority choosing to leave the day after the wedding

Roughly half of all newlyweds will spend about $2,000 on their honeymoon. 

63 percent will book between one to six months from the engagement date with the national average being two months from the engagement date

Some of the most important factors in choosing a honeymoon destination are the local attractions, rooms and restaurants near the resort. 

80 percent will use social media – Facebook, Trip Advisor, Pinterest and Instagram to share and research their honeymoon

35 percent of American couples use a travel agent to help book their honeymoon
This Year's Honeymoon Trends
Trends are constantly changing and honeymoon trends are no different. What was popular five years ago isn't today, especially with how different travel looks these days. Let's take a look at the latest honeymoon planning trends for 2022: 
Location 
Travel honeymoon trends for 2022 are still seeing tropical locations as the most desired destinations to celebrate a couple's new marriage. Some of the most popular foreign destinations include St. Lucia in the Caribbean, Jamaica and the Bahamas while Hawaii remains the top domestic travel destination. 
Accommodations
A majority of honeymooners choose to stay in a resort that offers all-inclusive benefits such as prepared meals and airport transfers. Other hotel/resort considerations are made based on local attractions, nearby amenities and the type of rooms available. Most couples want their honeymoon to be romantic and will choose a place to stay based on that factor.  
Duration
While the median length of stay for a honeymoon is seven days, it's becoming more common for newlyweds to be on their honeymoon for longer periods of time. The average is actually closer to nine days but some extend their vacations to a full month.  
Price
If you've been honeymoon planning for a while, then you know just how expensive a honeymoon can be. Though some couples spend upwards of $5,000 on a honeymoon vacation, the average cost is right around $2,500. With the help of a certified Sandals specialist, however, you'll receive the greatest deals. 
Ready To Start Honeymoon Planning? 
On top of being a luxury wedding planner, JoAnn Moore is a Sandals wedding planner and a certified Sandals specialist. If you are interested in honeymooning at a Sandals resort, trust JoAnn Moore to take care of all of your honeymoon needs! From sites to see and activities to do, trust our experienced and knowledgeable Sandals wedding planner.
GET HONEYMOON AND WEDDING PLANNING SERVICES