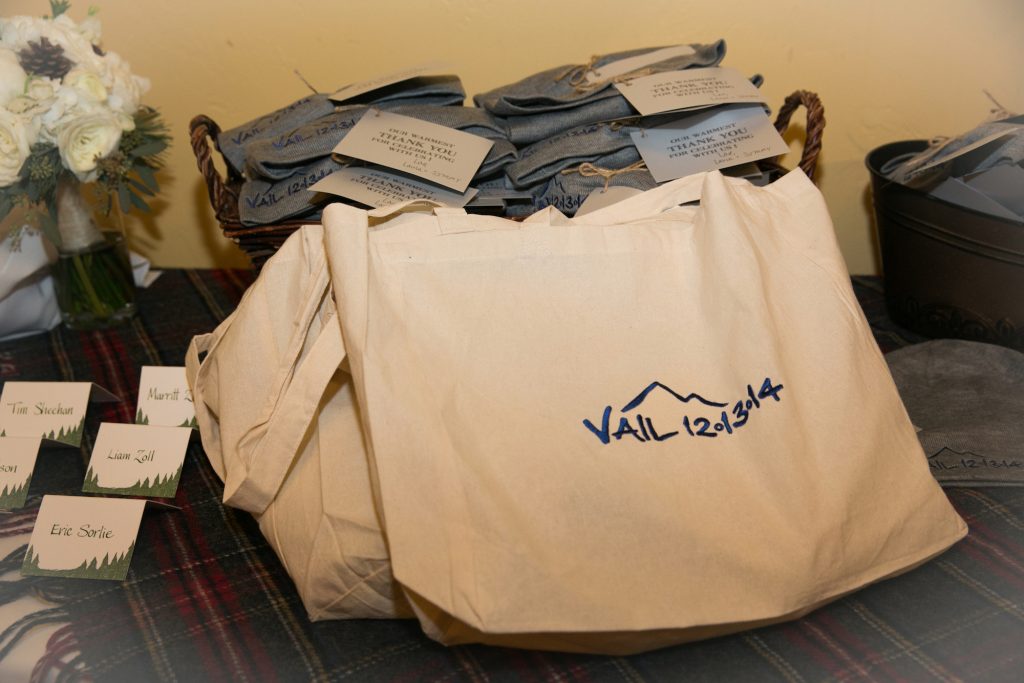 Wedding welcome bags are a special way to greet your guests as they arrive into town, to thank them, and to inform them of the upcoming events. With years of experience being a Nevada and Colorado luxury wedding planner, I'm often asked by all my brides if it's necessary to provide guests with welcome bags, and for content suggestions.
Here are my thoughts:
1. Contents:
Think of location and time of year when considering items to place in your wedding welcome bag. A few must-haves include bottled water, a map of the area, itinerary for weekend events, restaurant and activity suggestions, and information on the area where the wedding is being held. An example of this for high-altitude weddings would be information on the altitude, sunburn risks, as well as a reminder to hydrate. A few additional local items to include in the bag would be sunscreen, lip balm, postcards, food items such as granola bars or crackers, and perhaps local favorites such as gourmet cookies from a local bakery. More extravagant suggestions include a personalized CD of music they will hear at the wedding, personalized wine or champagne, or sunglasses for those outdoor weddings. Be creative! Come up with something unique that expresses the personalities of the couple.
2. Cost:
Of course, the more elaborate the gift, the more expensive the bag. The bag itself can be paper or cloth and easily ordered online with your personalized logo. Hotels sometimes have delivery fees ranging from $2-15 per bag. This service is said to be the tip for the bellman to deliver the bag, however, we have found that even if the bags are handed to the guests upon check-in, the cost remains. A way to avoid these costs is to have the welcome bags at the welcome party or rehearsal dinner to hand out yourself as you greet your guests. Set a budget with regards to your welcome bags and shop accordingly.
3. Assembly:
This is a great time for the bridesmaids to get together with you before the festivities begin. Pizza and wine are a given! The bags can be assembled in a hotel room, or you can ask the hotel if there is an empty meeting or board room you can use. If there's too much going on at your house for a hometown wedding, perhaps a friend or close relative will lend you their living room. Have all your items laid out and organized, and let the assembly line begin! Don't forget tissue paper to line the bags and a tag on the outside of the bag with the couples' names and wedding date, tied onto the bag with color-coordinated ribbon or raffia. Leave room on the tag for the name of the guest and their hotel or address.
4. Who gets the bags?:
Of course, all of your out of town guests should receive a welcome bag. If possible, make sure the bag is there before the check-in. You do want your guests who live in town to feel equally as welcome, so a welcome bag for them is also encouraged. Usually, one bag per family is sufficient, and if there are children attending, feel free to drop in a couple of children's favorites like packets of fruit snacks and juice boxes.
5. Delivery:
It is advised to have the bags delivered to hotels before the guests arrive. Call the hotels ahead of time to inquire as to when they will accept welcome bags for a weekend wedding and the fees. If the bellmen are to deliver the welcome bags, and you have a personalized note in each bag, request the note be outside of the bag in the guest's room for their arrival. If you don't have time to drive to the various hotels to deliver the bags, request a family member or perhaps your wedding planner to take care of this task for you.
Wedding welcome bags don't have to be expensive, and they should not be stressful for you to put together. They are an expense to your budget and you are in no way obligated to provide welcome bags to your guests. If you do choose to do a welcome bag, keep it simple, and provide information.