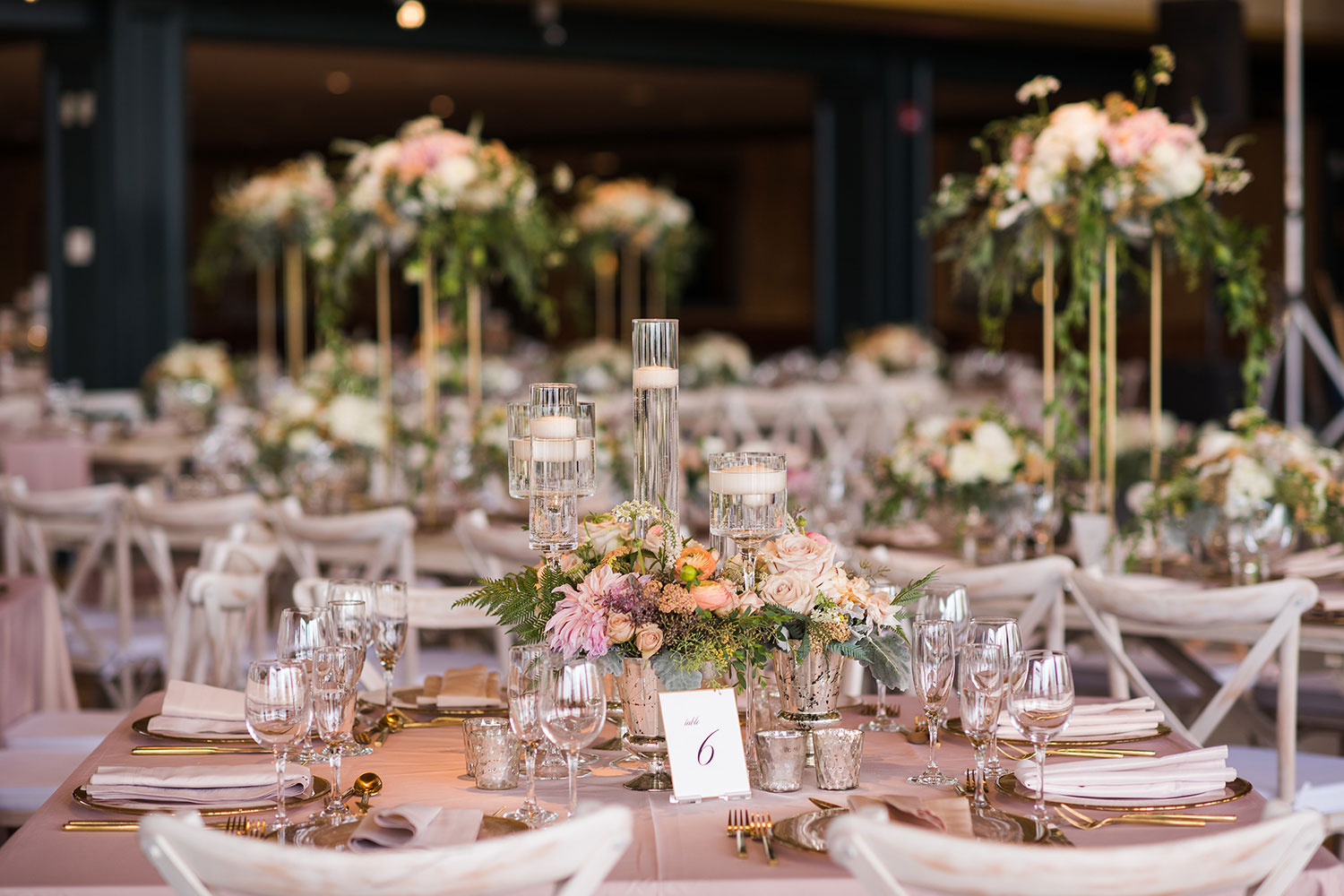 Congratulations! You are engaged and absolutely elated. You're envisioning a perfect event because your wedding day is one of the most important days of your life.
Having planned parties that have wowed your friends, you want to be involved in this celebration. You want to take a hands-on approach in planning your wedding and the prospect excites you.
Yes, the thought of planning a wedding is very exhilarating. But, in reality, it is like solving a Rubik's Cube. Getting all the pieces to work together precisely to complete the design is the objective. It may look like a seamless process but it is not easy. A wedding requires synergy – the interaction of two or more agents or forces so that their combined effect is greater than the sum of their individual effects. Much like a movie, a wedding has to be produced, scripted, edited and directed. Like a ballet of nuptial beauty for the eyes, a wedding must have a flow and a tempo. It needs to be as pleasing for your guests as it is for you. Take the stress off of yourself and hire luxury wedding planner, JoAnn Moore. She is a luxury Nevada and Colorado wedding planner and is here to help.
Why You Should Choose A Luxury Wedding Planner
As the star of your movie, can you really envision yourself being the central character, producer, editor, director, and run interference for all minor details on your wedding day?
If you are having more than 25 guests, the idea of working with a luxury wedding planner should appeal to you. As the creative director for the most important day of your life, a wedding planner will help you avoid some dreadful mishaps that could ruin your day. Here are eight potential pitfalls a wedding planner can help you avoid.
1. Make a theme more than a hodgepodge of ideas
Your ideas are fabulous, but they are only the foundation of your theme. A luxury wedding planner can make your ideas into a comprehensive and holistic reality — and do it on time and on budget. Some brides have blown their entire budget on one item to the detriment of the whole wedding. By knowing all the tricks and resources, your wedding planner can create a theme that carries the event. Wedding planners see the whole picture. If budget is a constraint, they will advise you how to save and still achieve similar results.
2. Build a realistic budget, and stick to it
A budget is an essential part of your wedding planning. Even a million-dollar wedding has a budget. A budget will give you perspective and it will center you. It will be a great comfort to you when you want to know where you stand financially. Expenses tend to mount up quickly and your budget will always give you a realistic assessment. I have witnessed brides spend out-of-control and randomly buy items that have no rhyme or reason. That money could have been spent elsewhere to make the wedding a better experience for the guests.
Be realistic about your budget. Don't fool yourself with a figure, knowing you can exceed it. You only hurt your chances of selecting the best possible vendors. A luxury wedding planner is also your event accountant and will work with the budget you give them. They honestly try to work within your parameters. Therefore, decide on a realistic figure so your wedding planner can recommend the vendors who will deliver the best work within your budget.
3. Manage the details, to the venue and beyond
When the event manager from your venue tells you they can do your wedding planning, they are not lying. They will do everything under the sun to oversee every detail the venue is responsible for. However, they are not responsible for 90 percent of the details that go into your wedding. Some brides are shocked when things go wrong. They thought the venue's event manager would manage the wedding properly. However, this is not always the case. If the venue has several events that day, the venue's event manager can't be held responsible for letting you know your flowers haven't arrived or your best man is held up in traffic. Imagine walking into a bald room instead of the floral-filled ballroom you paid for.
Your luxury wedding planner is your overseer. His or her job is to make sure every vendor and detail arrives on time and as expected. If you have 15 tables, 13 centerpieces just won't do. A wedding planner will make sure the florist fixes the problem before you even lay eyes on it. If the videographer does not show up, a wedding planner will find a replacement. Weddings can be rife with details that can and will go awry, but a luxury wedding planner will be your fairy godmother — seamlessly solving problems before they reach your ears or eyes.
4. Make a list, and check it twice (or thrice)
In the thrall of engaged bliss, most brides and grooms can easily become frustrated with timelines and checklists.
"Who has time to think of these boring things? I'm getting married!" I recall one bride saying. I wanted to tell her that she might not be getting married if the minister is absent. Timelines are critical to keeping your wedding smooth and your vendors sane. But, a happy couple shouldn't be subjected to the minutia of creating and executing these lists. Keep the bubbling bride (and groom) away from the details, and focused on the excitement of their new lives together.
5. Vendors that play together, stay together
There are vendors who work so well together you almost get double your money's worth. Your wedding planner knows all the best photographers, videographers, caters, florists, musical acts and more — and your wedding planner knows who gets along and who does not. Having a team of vendors that work well together means that the DJ will tell tip off the photographer to when a key moment is coming, or that an officiant will queue the orchestra to a heart-swelling song as you walk down the aisle as husband and wife. A wedding planner will help you assemble the perfect team. After all, it's their job to know the best vendors in the market.
6. Etiquette, shmetiquette
Unless you've read Emily Post religiously, you may not know how to address a wedding invitation to your husband's uncle (once removed) and the woman who he's seeing after he divorced his second wife. Brides need a go-to person for questions regarding etiquette and social standards. In addition, a luxury wedding planner can act as a liaison to help keep emotions and relationships in a positive place during planning. Your wedding planner is the aforementioned Emily Post with a dash of Martha Stewart. Elegant, charming, and willing to politely fight for what you want.
7. Overtime and over budget
One hour of overtime with a location site or photographer can easily crack your carefully created wedding budget. Every vendor is on the clock, including your wedding planner. But, your wedding planner is on your clock. They keep the details in line and the vendors on time so extra costs are avoided. In the end, your wedding planner is the most cost-effective choice you can make.
8. Frazzled is not fabulous
Wedding planning and the events that lead up to your wedding day will be stressful. You should have one job only — keeping yourself relaxed and living in the moment. You need time to absorb, enjoy and remember this special day. Be with your loved ones, be happy, be kind. And mostly, be assured that your wedding is going to be the most fabulous day of your life. Yes, all weddings have glitches — and yours will, too. But, your wedding planner will keep those issues hidden from you, allowing you to live in the moment of the day.
It's easy to be a genius at wedding planning. Start with a great idea, hire a luxury wedding planner like JoAnn Moore to bring them to life, and then enjoy as your family and friends congratulate you on throwing the best party they've ever attended.
Claudia Lutman is an etiquette and protocol expert. Find more wedding planning tips on her website at www.claudialutmanevents.com.
LEARN ABOUT OUR WEDDING PLANNING SERVICES