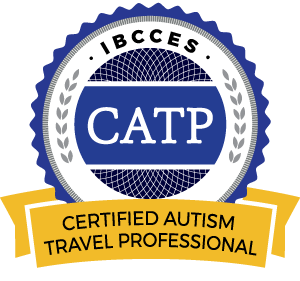 As a Professional Wedding and Event Planner for thirty years, I have worked with families dealing with all types of situations and circumstances. From various illnesses, disabilities, and other health issues, my team and I make it our mission to be as inclusive as possible with every guest at our client's celebrations. Most recently, working with families who have a family member with Autism. After learning that a family member is dealing with a child or adult with Autism and that 87% of those families choose not to travel to these special events, missing out on once in a lifetime family celebration that every family treasure. That saddens me deeply as a professional who deals with the celebrations for families. Training and education are increasing the ability of Wedding Planning Professionals to support these families.
Here are a few facts regarding Autism:
Autism Spectrum Disorders (ASD) are complex neurological disorders.
Autism affects 1 in 68 births.
Wedding and Event Professionals are becoming more knowledgable in assisting families with autistic children when they attend grand celebrations. More than ever before, we can assist families and help them feel welcomed and comfortable. Having learned these statistics, I too, became more aware. I increased my ability to support these special guests and their families at evens I plan with awareness and education. During the planning of my client's wedding or celebration, I ask my client to review their guest's list with me. I want to know of anyone who might have issues with the locations, easy access to more remote venues, and any disabilities that may exclude a family member from attending.
Ways we may be of Assistance to Families and the Unique Challenges of Younger Guests with Autism
Ask to speak with the parents of the guest/child who is the person with Autism. Get their tips, schedule, food restrictions, and other ways we can assist the parents with their needs.
For example, we may be able to help with finding local excursions and activities tailored for the child. We become aware of tools and ways to accommodate the child and parent's needs. It can even be as simple as supporting the child's daily routine-schedule and introducing ourselves to that person when they arrive.
Discuss with the parent any concerns with regards to safety at the venue and surroundings. Inform the clients of nearby bodies of water such as streams, rivers and lakes and heavily forested surroundings in the mountains. A person with Autism can be prone to wandering.
We want to know the sensory issues the child struggles with and find ways to assist the parent. We can provide a quiet room close by the event, for example, when the noise of a large group of people and loud music may become too much. When we know about the child's sensory issues, we can be more aware and find solutions for . a positive experience for both the child and the parent.
I like to know if the child with Autism will have siblings attending the event. I want to ensure they are taken care of and shown attention.
Wings for Autism Program
If traveling to the celebration includes air travel, there is assistance through many airports and TSA, such as "Wings for Autism." The program supports parents and their child with Autism with practice visits and a rehearsal of the security procedures. Assistance with locating an area that may be less crowded before boarding is also available. There are many helpful ways to support and assist the family to get through what could be challenging. There are some advance documentation and paperwork requirements. Contact your local airport authorities and airport TSA for more information. Check local airport websites for additional information and airport contacts.
Certified Autism Travel Professionals (CATP)
Many resorts and cruise lines now have Certified Autism Travel Professionals (CATP) to assist these families whose family member is a person with Autism. Sandals and Beaches Resorts provide trained professionals to help their guests. Asking and getting answers in advance might be as easy as a phone call. Resources are more available now than just a few years ago.
Additional Resources
About the Author
JoAnn Moore is a Certified Autistic Travel Professional, Master Wedding Planner, Certified Green Wedding Planner, and Certified Sandals Specialist. For more information, contact Joann at joann@joannmooreweddings.com or call (970) 926-2177.
SCHEDULE A CONSULTATION FOR WEDDING PLANNING SERVICES