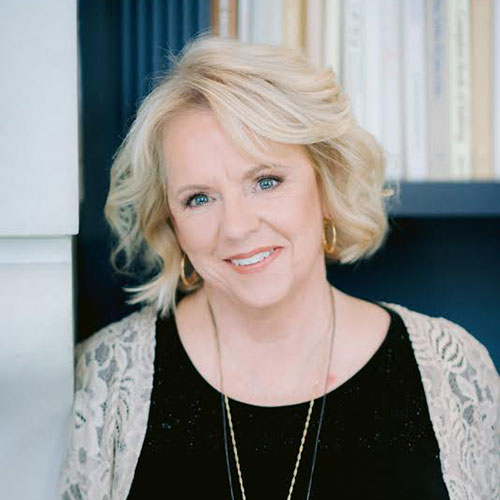 Get to Know JoAnn Moore
Eco-Friendly Wedding Planner Colorado, California, and Nevada
At Wedding Words, we love hearing how couples can create more personalized wedding experiences. For all you Colorado couples, this is the interview for you.
Wedding Words spoke with Master Wedding Planner, JoAnn Moore, owner of JoAnn Moore Weddings.
JoAnn Moore has been an event planner and luxury wedding planner in Colorado and Lake Tahoe for over 30 years. She is known for her unique and unforgettable weddings. Whether it's on top of a snow-covered mountain top or at a scenic vineyard, JoAnn Moore Weddings and Events designs one-of-a-kind wedding experiences.
JoAnn Moore Weddings is an industry leader having earned awards such as The Knot's Hall of Fame, WeddingWire's Couples Choice, and Vail Resorts Iconic Wedding Planner.
During our interview, JoAnn Moore shares her professional feedback on how couples can create a wedding that is unique to them and memorable for their guests.
---
Q: Tell us about your business. How did you get started?
A: I actually started working events and planning festivals for the town of Vail like the 4th of July parade and their Tree Lighting Ceremony with President Gerald Ford and his family. It just kept going from there. As a volunteer, in the beginning, I was noticed for my out-of-the-box creative ideas. I was asked to work even more on additional events and festivals for pay. I thought—you mean I could actually get paid to do this work? With this, I was hooked with the planning of special events. From there, an acquaintance saw my work and imagination and asked if I would plan his daughter's wedding. I said yes and loved the details of wedding planning. I planned a few more weddings and announced to my husband that I thought I had found my passion. He encouraged me to get the training and knowledge I would need and so I did. I went from working in a hospital as a Respiratory Therapist (Cardiopulmonary) to planning full-on and amazing weddings and events. You could say I went from working with the "sick heart to the lovesick heart." I've never looked back.
Q: You've been titled as the only Certified Professional Wedding Consultant in Colorado, according to the Association of Certified Professional Wedding Consultants. Can you explain a bit about what this means?
A: I trained with some of the very best in the industry, from the Association of Bridal Consultants (ABC) an international association to The Association of Certified Professional Wedding Consultants, (ACPWP) to name just a few. I've earned the title of Master Wedding Planner from ABC. It's an extremely difficult task to accomplish this honor. It included years of education, years of experience with planning weddings of all styles and sizes, and working in the wedding industry representing the industry in a very professional and positive way. I had to produce projects they assigned me at the time and then applied to be tested for this title, which included a face-to-face conversation and presentation to a board of wedding experts. I did pass but this took years. It's not easy and the title isn't handed out just because I finished a course, or wrote a paper. Because of this title's challenges and hurdles to achieve, there are only around 80 Master Wedding Planners from ABC. Sasha Sousa, for example, is a Master. I have also earned the title of Certified Professional Wedding Consultant with ACPWC—an extremely difficult task. There are similar challenges and education requirements. Since these are challenging titles to achieve there are few of us with these titles in the industry.
Q: How are you different than other wedding planners in the Rocky Mountain area?
A: I love all types of weddings and enjoy the challenge of making each and every one of the weddings I plan as unique and special as my clients. I am a renowned luxury wedding planner in Colorado and Lake Tahoe. I understand what it takes to make a special event, special. Because I'm considered a Master Wedding Planner, there are no cookie-cutter weddings here at JoAnn Moore Weddings and Events. Most of my weddings are actually destination weddings! My clients are traveling from outside the town, state, or country. As a result, I sometimes need to have 3:00 a.m. Skype calls with clients. I like to learn about their wedding vision and which details are important to the couple. I'm privileged to work in the great outdoors including mountain tops, ranches, and acreage without infrastructure—all spaces that can bring fun challenges. I do work in some amazing hotels, ballrooms, private homes, clubhouse venues, and mountain cabins as well. I've been extremely fortunate to have had the opportunity to work in some of the most breathtaking locations with views highlighting Mother Nature's best work. I can't say enough about how hard my team of wedding professionals works, but the results are worth every second of it. Plus, to have my clients and their family and friends vow to return to the mountains again because the wedding we planned was the best wedding they had ever attended—it makes my day perfect!
Q: What kind of couples do you typically work with?
A: From the couple with the sweetest love story to professionals who have a vision but no time to plan their wedding celebration—I work with all types of couples. I have been fortunate to work with celebrities, politicians and professional athletes as well. Most come to Colorado for an authentic Colorado experience for their family and friends. They don't want just a wedding—they want a wedding celebration with off the chart experiences to go with it. Summer weddings might include white water rafting trips, hiking, mountain bike riding, or exploring the history of the state. Then the wedding ceremony might happen on top of a mountain, at a beautiful ranch, or vineyard with spectacular views. The wedding with a view is big in the spring, summer and fall celebrations. Winter weddings are for those who want a ski-winter style wedding celebration with all the beauty and elegance a mountain winter brings. They might enjoy the memories they have of their own special trips and family ski vacations with their families growing up. Some couples know and love our local clergy. Some want the most amazing photos enjoying the views and great outdoors. Whatever the reason, I find ways to make it work for them! I have one chance to get it right and I get it right.
Q: What are the various ways you work with couples to design a custom wedding experience?
A: I first want to know what they enjoy doing together and what type of experiences they want for their guests. I present various ideas, depending on the season for their wedding celebration. I speak with some of the most amazing and talented wedding professionals to assist with the planning of something unique and personal for each and every one of my couples. Some want everything organic and outdoorsy, others want the magic of an elegant winter wedding or extraordinary design and colors while other couples want a cozy cabin on top of a mountain to celebrate and watch the sunset. As a green wedding planner, I enjoy making their visions come to life—whatever that vision might be.
Q: What are some specific things couples can do to personalize their wedding day?
A: With years of experience being a eco-friendly wedding planner, I highly recommend that couples should always be uniquely themselves. They don't need to try and impress or imitate someone else's wedding day. Bring in elements that celebrate who they are together. A recent couple I worked with loves to travel. We used that theme throughout the food stations by providing a variety of food that was inspired by where they had traveled together. We added photos of the couple in each of the amazing locations. Family traditions are another favorite. A bride was honored when she was asked to wear a veil from her groom's family. She would be the twelfth bride to wear the heirloom veil. There was a groom who used his great grandfather's Civil War sword to cut the cake. I also worked with a couple who planted a tree to "watch their love grow." Their wedding favors were evergreen seedlings for guests to plant in their own yards. This idea keeps the guests remembering the day and the unique couple. I do suggest that couples find a signature item or activity for the day to make the wedding stand out in their own personal way.
Q: What has been your favorite wedding to plan? What was involved?
A: I don't' really claim a favorite wedding but I do love when unique weddings all come together into something that wows the couple and their guests. A recent wedding at a Colorado ranch had so many details and décor items. On paper, the wedding planning looked overwhelming. When all set up, the bride cried when she walked into her wedding venue. Those are my favorite moments—when I don't just bring it all together for couples but we exceed their expectations.
Q: As a green wedding planner, what are your thoughts on couples writing personalized wedding vows?
A: I do encourage couples to write something from the heart and make it unique to them. For the couple who is more fun and silly, they could find writing romantic wedding vows as something that would make their guests giggle and simply wouldn't be their style. For couples who are unsure if writing their own wedding vows falls in-line with their personal style, I provide a few reminders:
I review their wedding vows. It's awkward to have a bride with six-page long wedding vows and a groom with only two paragraphs. I like to coach them a bit to ensure their vows will compliment each other versus underwhelming the other.
Be respectful of the guests witnessing the wedding vows. If the vow content includes items that are too personal, then I encourage a love letter instead. This love letter can be read separately from the wedding ceremony when it's just the two of them.
Take your emotions into consideration. For example, will you get emotional, be holding back tears or too giggly? For me, I'm an ugly crier so my wedding vows needed to be short and sweet.
Q: What advice do you give to most couples on their actual wedding day?
A: I ask the couple to stop and take in the ceremony before they walk to the altar. Look around the church or venue. Look at the people who are there because they played an important part in their lives to get to that very moment. They will remember that vision for the rest of their lives. I also remind the couple to let the little stuff go that might not seem perfect. If they choose to dwell on the fact that the shade of pink on the roses wasn't exactly right or the lead singer for the band was out sick, they won't enjoy their day. The little imperfections make for better memories down the road.
When a couple says, "…but this is the most important day of my life," I know in my heart it's only one of the many important days they'll share together.
GET JOANN'S WEDDING PLANNING SERVICES