Did you know that the average wedding produces 400lbs of garbage, and emits roughly 14.5 tons of carbon dioxide into the atmosphere? Now, considering that the average person emits 12 tons of CO2 in a year, that's quite a considerable amount to reach for just one day. With the help of a green wedding planner, you can keep to your eco-friendly beliefs and have the wedding of your dreams. Take these tips from JoAnn Moore to ensure your eco-friendly wedding is just as magical as you imagined it.
---
Wedding Invitations
From invitations and save-the-dates to programs and menus, weddings utilize an extreme excess of paper. Rather than contributing to more paper waste, consider using online services such as GreenVelope, Evite, or Paperless Post to send out your wedding invitations electronically. And for paper assets such as menus, programs, and napkins, seek out eco-friendly paper from resources like Treecycle or Green Field Paper Company who provide access to a wide range of biodegradable and eco-friendly paper products.
Out of Town Guests
Have a block of rooms at a local registered "Green Hotel". These Green Hotels have higher requirements than non-green hotels regarding recycling, minimum waste, organic products, and implementing other eco-friendly practices. 

Reception Dinnerware
According to certified green wedding planner JoAnn Moore, you should avoid purchasing plastic or paper tablecloths, linens, cups, or plates. Instead, renting linens, plates, and glassware will help you eliminate paper and plastic as much as possible, reducing your wedding's impact on the environment.
If renting your dinnerware isn't an option, you can opt for biodegradable or compostable plates and utensils. Chic Leaf offers plates and bowls made from palm leaves, while WoodAble offers disposable wooden utensils that are biodegradable.
Another option you have is to mix and match your own China or ask family and friends for their glassware as well. You'll also want to ensure you have recycle containers ready to gather all the used plastic and glass which can be disposed of at a recycling facility after the event.
Food & Beverages
You can also incorporate green wedding practices into your reception food and drink choices with organic products that are ethically made. Organic farming produces less pollution during food and beverage production making it a more eco-friendly catering option. When searching for the best eco-friendly caterers, be sure to inquire about their products, how the food is prepared, and the steps they take to dispose of unused items such as composting and recycling.
If your celebration is at a venue where you are permitted to provide your own alcohol, request your wedding guests to BYOOB (Bring Your Own Organic Booze). You can then set up a drink bar with organic wines, vodkas, and champagnes.   

Party Favors
According to JoAnn Moore, "It's time to focus on people doing better and getting better." Because of this belief, Moore always works with companies, stores, and products that prioritize green practices whenever possible. We frequently recommend our brides and grooms seek cause-worthy and eco-friendly companies to provide their guests with take-home wedding favors and supply reusable gift bags.
Decor and Accessories
In regard to your wedding decorations, the best thing you can do is gather items that you can recycle, reuse, refurbish, and re-imagine for your big day. JoAnn frequently visits thrift shops to find decor and points out "how cost-effective it is to spend less on new things while decreasing the amount of energy and materials needed for shipping packages." Using a variety of stunning water pitchers and unique vases from an antique or thrift shop as floral containers makes your celebration stand out.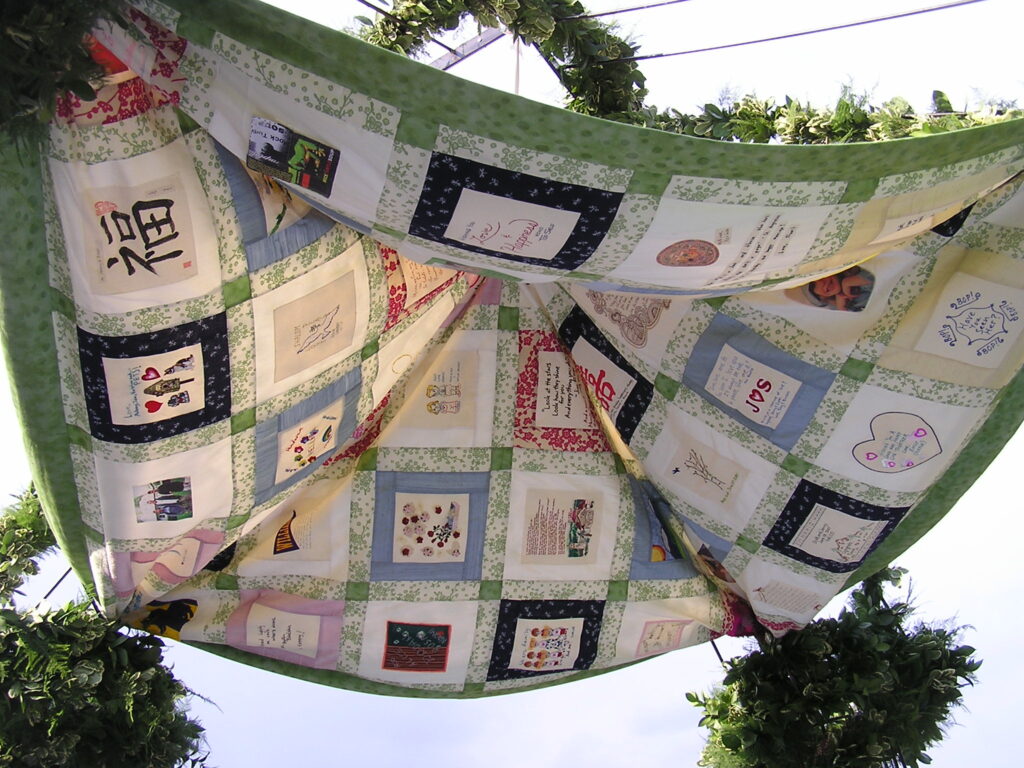 You can also look into biodegradable confetti and skip the glitter. Birdseed, lavender, leaves, flower petals, and confetti made from biodegradable paper and other materials are always the superior options. Also, have a plan for the flowers at the end of the event. Donating flowers to a local senior home is a gift to the local seniors that also makes you feel good. Offer centerpieces to family members and special guests to enjoy for days to follow, provided the floral containers are not rentals from the florist. The possibilities are endless when it comes to decorations and there are always eco-friendly alternatives you can make to ensure you have a green wedding.
Wedding Activities
When planning your wedding activities, you should also consider what items can be recycled or refurbished for entertaining guests. One of the most popular wedding activities is renting a photo booth for guests to capture silly and fun moments. But instead of buying plastic props, have attendees bring their own silly hats. Use a chalkboard to write the message instead of "throw-away" signage. Backyard games such as Corn Hole and Ladder Ball are fun outdoor activities as the guests wait for the dinner bell. 

Meet With Green Wedding Planner JoAnn Moore
It's important that you don't compromise your ethical beliefs for the sake of an event—even one as special as celebrating your nuptials. With the help of a green wedding planner to get you through your big day, you won't have to worry about sacrificing your eco-friendly lifestyle to have the wedding of your dreams.
JoAnn Moore was recently featured in an article published by Martha Stewart recognizing her for being an eco-friendly wedding and event planner. She can help you maintain your eco-friendly lifestyle by integrating green alternatives, even on your wedding day. Connect with her today to see for yourself how you can easily have a green wedding.
Schedule a Wedding Planning Consultation